YOU. Only Better.® identity intelligence® Add-On Reports
SPECIAL NOTE: All reports are add-on products – they must be purchased with an identity intelligence® Coaching package.
$75 CAREER REPORT
This report is a valuable add-on to the identity intelligence inventory.
Clarifying what one wants in a job or from a career is the first, most essential step in any career planning process. This add-on applies one's neurophysiology to a variety of well-respected career planning models. It presents the results in an innovative format that gives valuable insight into a individual's traits, abilities, and preferences, so they can choose a career path that builds on their strengths, or concentrate on challenges that might hold them back.
The models used include the ACT World-of-Work Map and Work Attribute Preference; John L. Holland's Holland Hexagon; Edgar Schein's Eight Career Anchors and Howard Gardner's Eight Talents. The assessment taker is provided with a clear and multidimensional assessment of how their personality shapes their potential for enjoying or succeeding in different jobs.
The WorkPlace Career Guider analyzes an individual's strengths and weaknesses in comparison to the competencies required for a specific job.
Benefits
Analyzes best fits to career development
Results are linked to the Department of Labor's Occupational Network
Identifies a strategy to leverage the strengths and minimize the weakness for efficient job performance
Visual representation of traits as they are aligned various occupations is easy to understand
Provides specific occupational feedback
$10 SUMMARY REPORT
Download a sample report here: www.identity-intelligence.org/content/YOU-Only-Better-Report-AddOn-Summary.pdf
Your summary report has all of the data filled out for you, in one easy to read page.

These are some of the insights you can expect from your Summary Report:
Snapshot

: Get an easy to read snapshot of your entire neurophysiology.

Entire Central Nervous System

: Includes all your traits from your Autonomic, Motoric, Dopaminergic, Serotonergic, and Auto Focus System.

Comparison

: Makes it very easy to compare different major traits and subtraits. Also, if you know others who have gone through the coaching you can easily compare your reports to see where you are wired differently.

Share with Others: This report is perfect for printing out copies and sharing with others (family, friends, boyfriend, etc) - just give them this one page and walk through it with them!
Epiphanies: By "studying" this one page report and thinking deeply about the different traits, you can make some extraordinary discoveries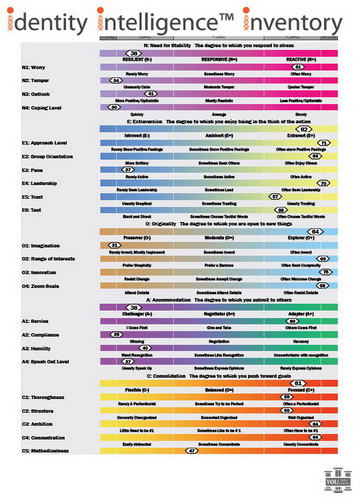 $75 LEADERSHIP REPORT
You can download a sample report here: www.identity-intelligence.org/content/YOU-Only-Better-Report-AddOn-Leader.pdf
The Leader Report is not an assessment of your actual performance in a given leadership model, but rather the degree to which your personality traits would tend to provide natural energy for standard leadership models.
These are some of the insights you can expect from your Leader Report:
Delegation: What are the four primary phases of the delegation process, and what is your natural energy to actualize each phase?
Escalation Of Commitment: Where might you be prone to NOT abandon a decision that proved to be wrong?
Sound Versus Speedy Decision Making: How does your organizational skills, discipline, and methodicalness affect good decision making?
Furnham Management Study: Discover your natural energy in ten key indicators of management effectiveness: Drive to Achieve, Drive to Lead, Conceptual Ability, Intuition, Interpersonal Sensitivity, Social Adaptability, Optimism, Resilience, Interest in Business, & Internal Locus of Control
Sea Leadership Model - Leadership occurs when someone takes responsibility for effecting a necessary change. Discover which areas you have natural energy to affect change.
Situational Leadership - The proper leadership style depends on the situation -- with an emphasis on either the relationship or the technical nature of the task.
In which leadership contexts will you tend to shine?
$75 LEARNING REPORT
You can download a sample report here: www.identity-intelligence.org/content/YOU-Only-Better-Report-AddOn-Learner.pdf
How can you learn most effectively? What activities are more natural and effective for you based on your personality traits? What is your learning style and how can you set yourself up for academic success?
These are just a few of outcomes you can expect from your Learner Report:
Academic Performance Goals

: How much energy should you put into relationships and special interests? Should you be a well-rounded student; or should you focus on becoming a subject specialist?

Social Learning Styles: Would you thrive in traditional classroom instruction; or would you learn best with an advisor-mentor? Would you be good with independent study? Are you highly adaptable and able to combine multiple learning styles?

Distractions

: How can you cope with inevitable stressors that come between your college goals? How much noise and activity do you need? Do you need to isolate yourself during certain times of study, reading, and writing – or will off-task distractions help you?

Errors

: Each of us is prone to error. Giving the professor what (s)he wants is the route to success whether studying, writing a paper, or giving a speech. Understanding your tendencies toward errors can help you 'make the grade'.

Cooperative Learning

: Teamwork is more important than ever to both professors and employers. The Learner Report presents roles required for overall successful team learning, and how naturally your traits support each of the roles.
100% SATISFACTION GUARANTEE - 30-Day Satisfaction Refund / No Risk INVESTMENT! - We are committed to delivering the best coaching experience possible; we will do all that we can to meet your expectations. - After completing the coaching -- if not TOTALLY SATISFIED we will give you a 100% REFUND (50% for 1-on-1 Coaching). - Most programs say refunds are "no questions asked". We'd really like to know why you are unhappy, but you don't have to tell us to get a refund.